Andrea Bocelli in the Stadthalle in Vienna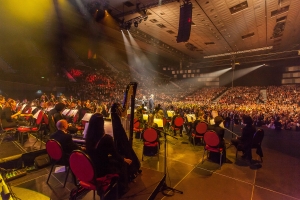 A highlight for the Ambassade Orchestra Vienna in 2014 was the concert with Andrea Bocelli on November 8th in the sold-out Wiener Stadthalle, Viennas biggest concert hall. Together with the Orpheus Choir, the Ambassade Orchestra Vienna supported Andrea Bocelli at his tour stop in Vienna. The conductor was the fabulous Eugene Kohn, star guests included Alessandra Marianelli, Lidia Baich, Ilaria Della Bidia and Carisma. The program included classics such as "La donna é mobile" from Rigoletto, "Brindisi" from La Traviata, "Di quella pira" from Il trovatore, as well as "Love me Tender" by Elvis Presley and "When I fall in love" by V Young.
Due to the great success, the Ambassade Orchestra Vienna was asked to accompany Andrea Bocelli again in 2017 during the sold-out concerts in Linz and Graz.
José Carreras in the Arab Emirates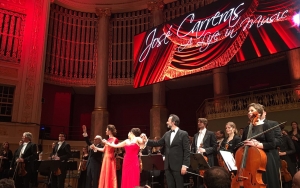 The Ambassade Orchestra Vienna was asked to accompany José Carreras during a performance in Dubai. Moreover, the concert tour we organized on the world's largest horse and camel racetrack "Nad Al Sheba" was only the beginning of a successful collaboration. The result of this extremely successful concert was a series of concerts throughout the Arab world, as well as the CD production "Mediterranean Passion / José Carreras and Ambassade Orchestra Vienna" produced by the Music Agency in cooperation with José Carreras. For example, the music agency supported José Carreras with the Ambassade Orchestra Vienna at his Christmas concert in the Stadthalle in Vienna in December 2010, and during concerts in Abu Dhabi and Bahrain in 2013 and 2014. In 2017, his most recent and probably last concert in Austria took place. José Carreras and the Ambassade Orchestra presented "A life in Music" at the sold-out Vienna Konzerthaus.
Ambros at the Wiener Musikverein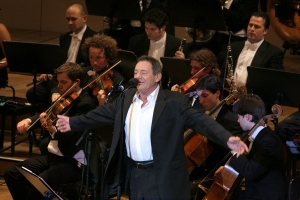 The Ambassade Orchestra Vienna created the idea to re-record the world-famous songs of Hans Moser with a veteran of the Austrian music scene: Wolfgang Ambors. Already at the first meeting with the famous Austrian singer, it turned out that he was just as much a fan of Hans Moser as the orchestra musicians. After a first exciting declaration Wolfgang Ambros immediately called our friend and conductor Christian Kolonovits and within hours it was clear: "Ambros sings Moser". Shortly afterwards the Ambassade Orchestra Vienna and Christian Kolonovits went to the Rosenhügelstudios with Wolfgang Ambros and recorded 15 of the most famous Viennese songs there. The call for a live concert got louder and louder and so the musicians agreed to perform live more than happy. The Wiener Musikverein as well as the Konzerthaus were completely sold out and not only the orchestra itself, but also the audience was enthusiastic about this unique show.