St. Anton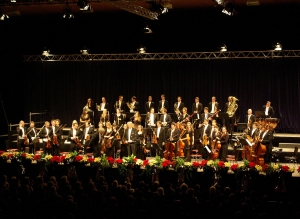 The Ambassade Orchestra Vienna plays the traditional New Year's concert in St. Anton with Prof. Dr. Rudolf Streicher, President of the Vienna Symphony Orchestra and St. Anton honorary citizen, as conductor. Since nearly twenty years about 1000 spectators visit the concert annually. Certain main topics define the program of the popular concert evenings – for example a trip on the Danube or a journey to Italy. The audience is manifold, citizens of St. Anton and the surroundings, tourists as well as well known members of state and regional politics and personalities like ski legend Karl Schranz and representatives of the Chamber of Commerce.
Monte Carlo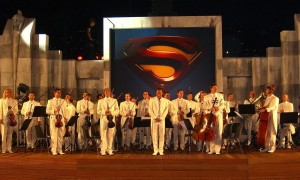 In Monte Carlo 2006 not only the Formula 1 engines roared. At the Red Bull Drivers Party on Saturday before the Monaco Grand Prix, the Ambassade Orchestra Vienna under the baton of Christian Kolonovits honored greats like Boris Becker and George Lucas, but of course also the Formula 1 driver David Coulthard and racing team owner Gerhard Berger. The Superman Suite was played to match the presentation of the new Superman Trailer. Perhaps this performance gave the Red-Bull pilots wings, because David Coulthard drove the next day directly to the first podium place of the Red Bull Boliden.
Not only Formula 1 car engines were roaring in Monte Carlo. At the Red Bull Driver's Party on Saturday night before the Grand Prix in Monaco, the Ambassade Orchestra Vienna with their conductor Christian Kolonovits performed for celebrities such as Boris Becker, George Lukas, Formula 1 pilot David Coulthard and Torro Rosso owner Gerhard Berger.
Following the presentation of the new Superman movie, the Superman-Suite played by the Ambassade Orchestra Vienna, could be heard all over the harbour of Monte Carlo.
Perhaps that "gave Wings" to the Red Bull pilot, since the next day David Coulthard was the winner of the Grand Prix for his Red Bull Racing Team.