Cargo Partner Event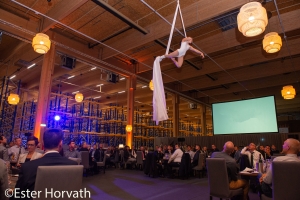 To mark the inauguration of a newly constructed warehouse, we sought a distinctive showpiece to showcase the venue's versatility. An awe-inspiring Aerial Silk Acrobatics Show, held twelve meters above ground, featured two talented artists performing on aerial fabrics, captivating both our audience and drawing attention to the new facility. This dazzling performance served as the highlight of the Cargo Partners' customer and partner event, leaving a lasting impression.
Enersys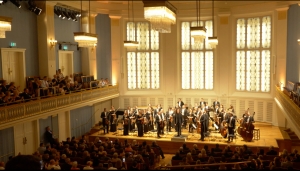 Two days, four distinct locations – the ideal setting for orchestrating two unforgettable days for Enersys, complete with artistic highlights!
Here's a glimpse into the festivities: The first evening commenced at a Viennese "Heurigen", where guests were treated to a medley of artistic performances, including a charming children's choir presenting "The Sound of Music", a lively "Schuhplattler Performance", and a delightful "Heurigenmusiker Trio". On the following day, guests were graciously welcomed to the Konzerthaus Wien, where a dinner party unfolded with the accompaniment of "Fanfare Players" and a grand entrance by uniformed Guards and traditional costume-clad Girls. The Ambassade Orchestra Vienna graced the occasion with an exclusive concert, captivating the 650 attendees. Our prodigious "Little Mozart" enthralled the audience with his piano performance, while a troupe of "Walking Acts" in costumes (featuring Strauss, Mozart, and Beethoven) gladly posed for photos with the guests. To conclude the evening, a Jazz Band provided delightful entertainment during the post-dinner drinks and dessert.
Barranco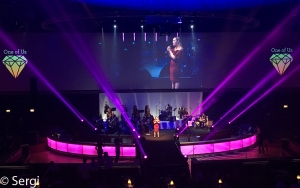 Barranco has been organizing Adecco's annual international managers' meeting for several years. In the 2017 event held in Vienna, we orchestrated a captivating "typically Viennese" opening night with the Ambassade Quartet Vienna and waltz performances. The second evening featured "One of Us", a unique show where Adecco employees from around the world performed for managing directors. We selected ten exceptional singers from employee submissions, organized a 15-piece string ensemble around Barbara Helfgott, and produced arrangements for all 10 songs and two additional songs, that were sung by all candidates together. The result was a Las Vegas-style show with stunning visuals, all masterfully hosted by one of our show masters.